Confidently take control of your brake balance with the new Monit remote bias adjuster
Designed to work with all race pedal boxes, racing pedal assemblies, and balance bars, the new patent pending Monit Brake Dial is a remote brake bias adjuster that allows you to easily view, and adjust, the position that your brake bias is set too. Reset the display to 'zero' at your preferred position and confidently adjust for changing conditions to gain maximum braking performance – knowing you can accurately return to your starting point if you need to.
Replace your old remote bias adjuster with the new Monit Brake bias Dial and take control of your race braking performance.
Brake Dial Features
The new Monit Brake Dial is a remote bias adjuster knob designed to work with all existing racing pedal boxes and balance bars. It has an integrated LCD screen that counts and displays ¼ turn clicks of a balance bar, giving all drivers the confidence and control to adjust their brake bias for optimal braking performance, knowing they can quickly and accurately return to their initial setting.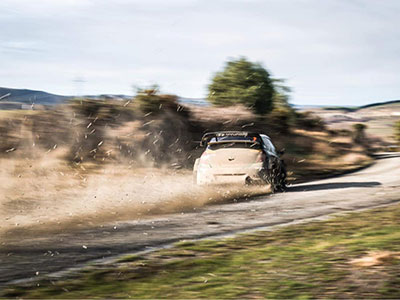 Improved driver confidence.
Vehicle balance is critical to ensuring optimal driver speed – when a car 'feels' right under brakes and provides full confidence, the driver is more likely to extract the maximum performance from the race vehicle package. The Monit Dial ensures the driver has confidence to adjust their brake balance regularly, and confidence – at a glance – that it is set correctly.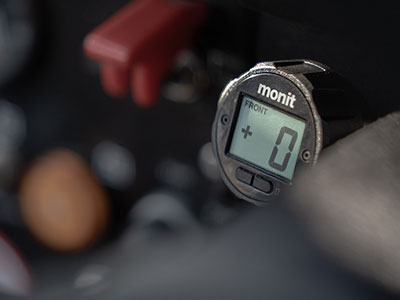 Remove the risk of error. Optimise for the conditions.
Quick and accurate brake balance adjustment allows the driver to adapt to changing; conditions, surfaces, tyre compounds, fuel loads, or driver preferences, to maximise brake performance.
Clear concise display of the brake balance bar setting during a race, or rally, ensures that adjustment errors are avoided, and the risk of an accident is reduced.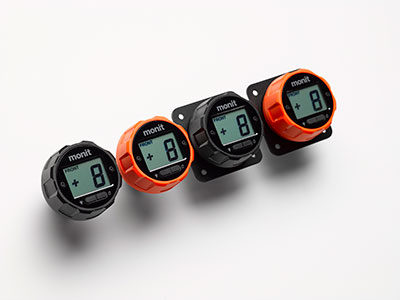 Built tough.
Shock and water resistant.
Finite Element Analysis (FEA) and CAD design were backed up with extensive life testing to produce a product that is built motorsport tough and reliable. Designed for 10+ years of trouble-free operation, the Monit Brake bias remote adjuster Dial is built from carefully selected engineering materials to exacting standards – resulting in a product that is shock and water resistant.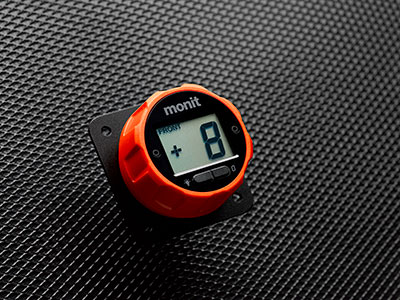 Enables pin-point accuracy of brake balance setting.
The display allows accurate adjustment of brake bias to any precise position – with confidence.
Precision detent 'clicks' every ¼ turn of the Monit Brake Dial ensure that vibrations don't accidently adjust the brake balance bar position. The ¼ turn detent clicks, that are counted, also offer tactile feedback for the adjustment moments where the driver doesn't have time to glance at the easy-to-read Monit position display.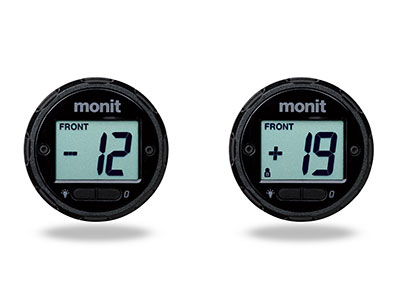 Two independent 'zero' point settings are stored.
With the hold of a button the Monit Brake bias Dial can quickly swap between 'A' and 'B' driver settings, where each driver can have a separate 'zero' point, an icon on the screen indicates which of the two independent settings is activated. Perfect for dual driver endurance racing to ensure each driver has the brake bias set accurately to their preferred position.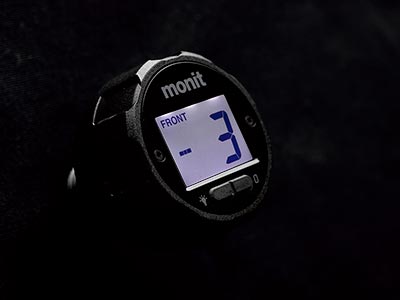 Brake position displayed continuously
The high contrast LCD display stays on at all times ensuring that the precise brake balance position is always visible for the race/rally driver. Designed to be viewable in even the brightest sunlight, the display also incorporates a backlight function for low light/nighttime use.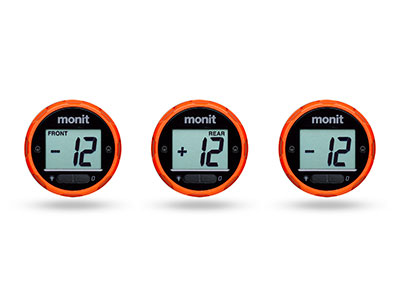 Easy-to-use. Adjustable driver viewing preference
Turn the dial to adjust your brake bias position, as per as traditional remote bias adjusters, and the Monit Brake Dial will count the ¼ turn 'clicks' and display this position. Simply press and hold to 'zero' at your preferred setting. This can be shown relative to the FRONT or REAR bias depending on the driver's preference. Or Absolute position can be selected for alternative uses, such as suspension adjustment.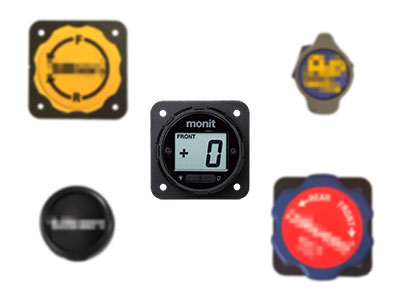 Compact size. Quick and easy installation.
At 45mm (1.77inches) diameter the Monit Brake bias Dial is compact, and fitment in place of existing bias adjuster knobs is typically a 10minute job. No wiring is required as the Monit Brake Dial is battery powered by a replaceable CR2032 coin cell. Battery life is 18months in normal operation and there is a battery low warning indicator to ensure you're never caught short during a race or rally.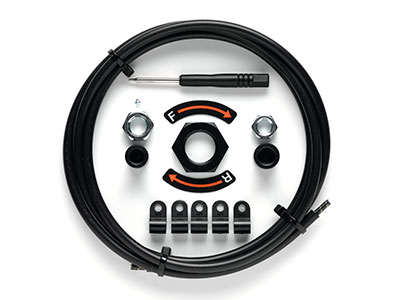 Universally compatible with all pedal boxes
With 7/16" and 3/8" balance bar adaptors included, the Monit Brake dial is designed to fit to all balance bars and racing pedal boxes. This includes easy fitment to Tilton, Wilwood, AP Racing, Brembo, OBP and Alcon racing pedal assemblies – as well as all other brands. A new Monit flexible shaft cable is included, but often an existing cable can be used if one is already installed.
Two mounting design options and two colour options are available.
The orange coloured version allows for easy visual location during a race, whereas the black coloured version allows for discreet subtle placement in the vehicle.
Has a cost effective square backing plate design
A cost effective standardised square mounting plate design. The matching mounting holes allow for quick replacement of a previously fitted remote brake bias adjuster that has a square mounting plate.
Dial available in Orange or Black.
Premium mounting design. With billet alloy screw thread and nut
The premium version of the Monit Brake Dial. With a threaded mount design allowing for secure fitment through any 20mm hole. Ensuring the easiest installation and visual integration with the control panel area of a motorsport vehicle.
Dial available in Orange or Black.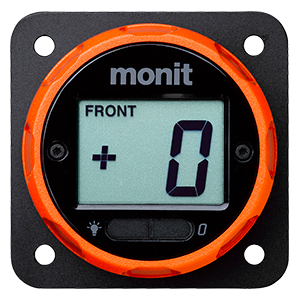 Square Mount (Front)
Width: 50.8mm (2.0")
Height: 50.8mm (2.0")
Dial diameter: 45.5mm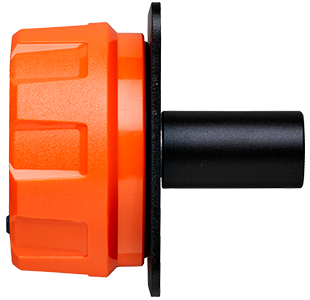 Square Mount (Side)
Dial height: 24.0mm
Total length: 51.7mm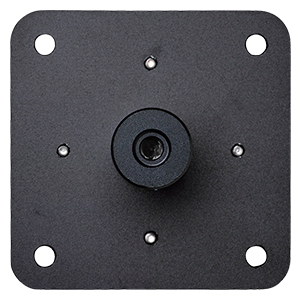 Square Mount (Back)
Mounting hole distances: 38.1mm (1.5")
Mounting hole diameters: 3.3mm (1/8")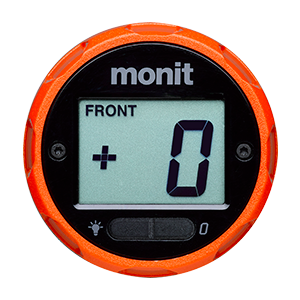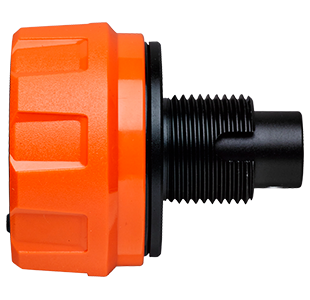 Bulkhead Mount (Side)
Dial height: 24.0mm
Total length: 51.7mm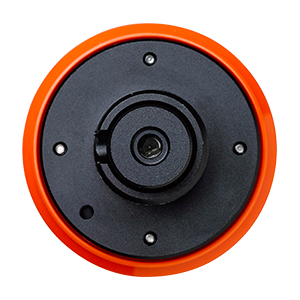 Bulkhead Mount (Back)
Required minimum mounting hole diameter: 20mm (13/16")
Custom nano-power transflective liquid crystal display with high contrast fluid.
Sunlight viewable display with white LED backlight for nighttime viewing.
Display range from -99 to +99 adjustment 'clicks'.
Compatible with all balance bars/pedal boxes.
Dust and shock resistant
Water resistant
Detent 'clicks' every ¼ turn ensuring positive vibration-proof position adjustment
Comes complete with 1500mm flexible shaft, balance bar adaptors, and all fasteners (see below)
Electrical & Operating Requirements:
Battery powered – 18month battery life (normal use) on a user replaceable standard CR2032 coin cell battery.
Operating temperature: -20 to +70 deg Celsius
Storage temperature: -25 to +75 deg Celsius
What's included in the package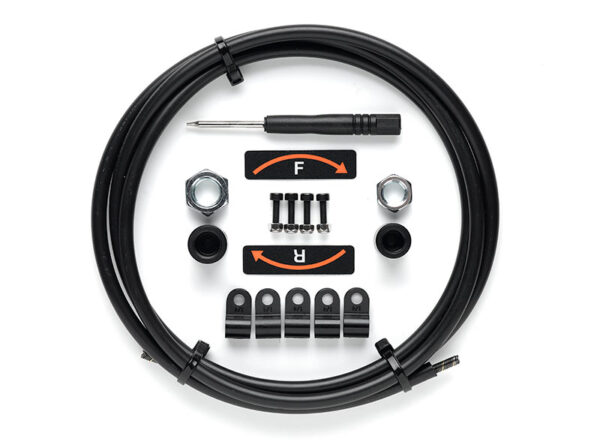 Square Mount Version
4x M4 black stainless steel cap screws
4x M4 lock nuts
1x Inner and outer flexible shaft – 1500mm long
5x Cable clamps
2x Rotation direction indication labels
2x Balance bar to cable adaptors (7/16" and 3/8" threads)
2x Jam nuts (7/16" and 3/8" threads)
1x T5 Torx screwdriver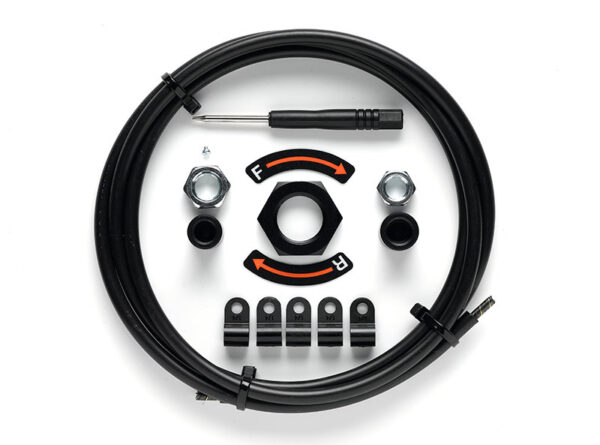 Bulkhead Mount Version
1x M20 black mounting nut
1x Inner and outer flexible shaft – 1500mm long
5x Cable clamps
2x Rotation direction indication labels
1x M2 Cheese head anti-rotation fastener
2x Balance bar to cable adaptors (7/16" and 3/8" threads)
2x Jam nuts (7/16" and 3/8" threads)
1x T5 Torx screwdriver